Let us narrow down the broad idea of how Scard operates as it widens the reach of a traditional printed business card.

There are a few scenarios to give out your Scard Profile;
By receiving URL links from messages, advertisements, social media feeds, etc. (print or digital media)
By scanning QR codes from messages, advertisements, social media feeds, etc. (physically or digital media). We tried it out by using our profile with the QR code displayed on our device to view us across Google Meet, Zoom, and Teams over the internet. It works! The participles can view the Scard profile on their end without any issue.
By tapping the NFC tag/card in a meeting session (physically).

No matter how you give out your Scard Profile, the receiver will land on the web page whether it is a Scard URL (domain) or your custom URL (domain).

These are what the receiver can do;
They can Save your card by providing their email address. Your card image will send to their email to download and save keep it for later.
They can connect with you (add you to their friend list) if they have a Scard account.
They can screen capture your Scard Profile page.
They can bookmark your Scard Profile on their device browser.
They can leave that page in the browser unclosed.
They can print out your Scard Profile page (this is not recommended as its wastes paper)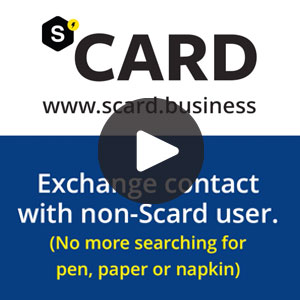 In addition, these are what they can do to refer you to their friends;
They can copy the URL or QR code and send it to their friends on messages or social media feeds.
They can share with friends using the Share function on your Scard Profile page. (Messages, social media feeds or email).
They share your profile with their Connected Friends or create a referrer link, so you will know he refers you.
they show your profile physically on their phone as there is a URL & QR code to scan and receive it.

You can try to get a Scard Profile and share it with yourself to test it.
You can also read more about these: