Yes, it can, and there are 2 ways to activate that.
All s͛Card Profile is UTF-8; you can type in any language into the field (Name/Introduction/Position/Company). You can add other languages/characters than English into the social media/online store contact details. Still, we are unsure if other applications will respond appropriately.

You can add additional languages using the translation function in our system (You need to be a Pro account user).

Once you activate the function, it will auto-translate your default content into your selected language. Then you will have to check or edit the content and save it.
After saving it, the system will create extra information in your s͛Card Profile, and you are ready to meet people with your multi-language digital business card (s͛Card).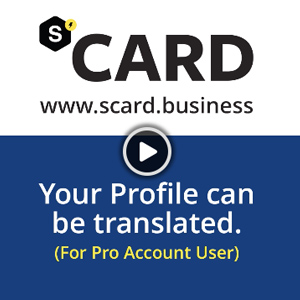 Note:
The translation functionality is available exclusively to Pro account holders.
All Pro account users will receive one free language translation service. Please choose your language carefully; once you've activated it, it will be used and cannot be swapped for other languages afterwards.
You'll have to spend additional money on the other language. You may purchase the additional language in our s͛Card Shop (Login Required).
As you are aware, this translation feature can only be used by the Pro account holder; if you obtain any additional language translations after your Pro account expires, the functionality will be disabled when your Pro subscription ends. We will not offer refunds or credits, but please remember you must renew your Pro account to resume the function.
We have developed a sophisticated artificial intelligence system that will attempt to figure out your visitor's device's default browser language and verify whether you have the language available for that language they use. If it finds a match, it will display in that language; if not, it will show the default language.
The user determines the default language, English or the language they activate. For the Free account default language is English.